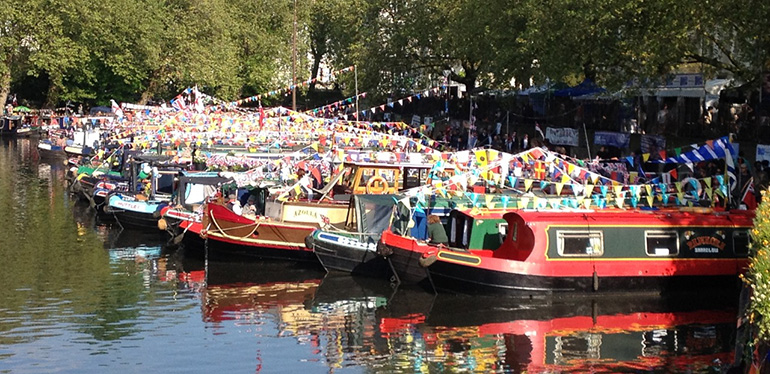 Formation of the Society
Since its formation the Society has worked to strike a balance between ensuring the area continues to retain its particular residential and architectural character, whilst also ensuring it attracts contemporary Londoners as residents and plays its part in providing homes for London's growing population.
The Society was founded in 1961 by, amongst others, the late Lord Norwich – who remained our Patron until shortly before his death – to oppose a proposal to develop along and on top of the Regent's Canal between Maida Vale and Warwick Avenue.  At about the same time the Church Commissioners applied to demolish St Saviour's church, which stood at the northern end of Warwick Avenue. It was admittedly far too large for its 1960s congregation, and The Society did not object to the body of the church, i.e. behind the central tower, being replaced by a block of flats.  The Society simply asked the Commissioners to keep the historic tower. However, disappointingly the Commissioners and their architects refused to consider it.
The struggle to preserve the area became even more acute in the mid 1970's following the Church Commissioners' proposal to 'improve' what was then their Maida Vale Estate, including the total reconstruction of Warrington Crescent, together with the replacement of some of the communal gardens with mass Car Parking. In addition it was planned to introduce large office blocks.  The planning and conservation experience of Chairmen Peter Jay and Leslie Ginsburg were invaluable in resisting these plans. Subsequently, the Society played a prominent part in the Church Commissioners' decision to sell off the freeholds to the existing occupants.  In due course, this led to a greatly improved maintenance and repair of all the buildings in the South of the area.
Then in the early 1980's, the City Council recognised the Society's activities in the whole area by choosing it as the designated Amenity Society for Westminster, North of the Canal and West of Edgware Road. The Society's work ensured that a large proportion of the area is now a Conservation Area, leading to improvements in the standard of housing north of Sutherland Avenue.
The work of the society carries on, recently covering matters as diverse as promoting measures for traffic calming so diminishing the attractions of streets as commuter 'rat-runs'; working with the landlords at Paddington Central to ensure the much needed development of Paddington Goods Yards produces benefits for the local community; more recently working to ensure that the further developments on the Southern edge of the area, such as the 'Paddington Pole' aren't allowed to overshadow the Community; working with the Police to ensure that the area remains safe for residents.