< Back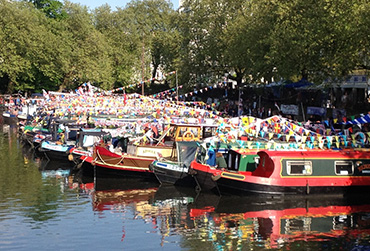 Hold the boat! The little Venice canal cavalcade is coming to town!
April 2018
On the May Bank Holiday weekend (5th-7th) the tranquil waters of Little Venice pool will spring to life via the 'Canal cavalcade'.The event has been running since 1983 and has attracted people from far and wide, and is an annual delight for local residents. There will be activities for all the family with a pageant of boats, live music, kids activities, competitions, Morris Dancers, a real ale bar, a wide selection of food! Not to mention one of the highlights being the dusk 'Boat illumination parade'
Admission is Free, the event is run by IWA volunteers.
A link to the programme-
*This year's explosion of ducklings will be bobbing about amidst the fun. Please do remember to bring peas if you want to feed them- bread is not their natural diet and causes difficulties.