< Back
Sewing against COVID – local volunteers tell us what it takes to make their handmade masks
January 2021
Vanessa who works with the woman's empowerment programme talks to us about her experiences, sewing masks, and her work at Women Empowerment Project & Training (WEPT).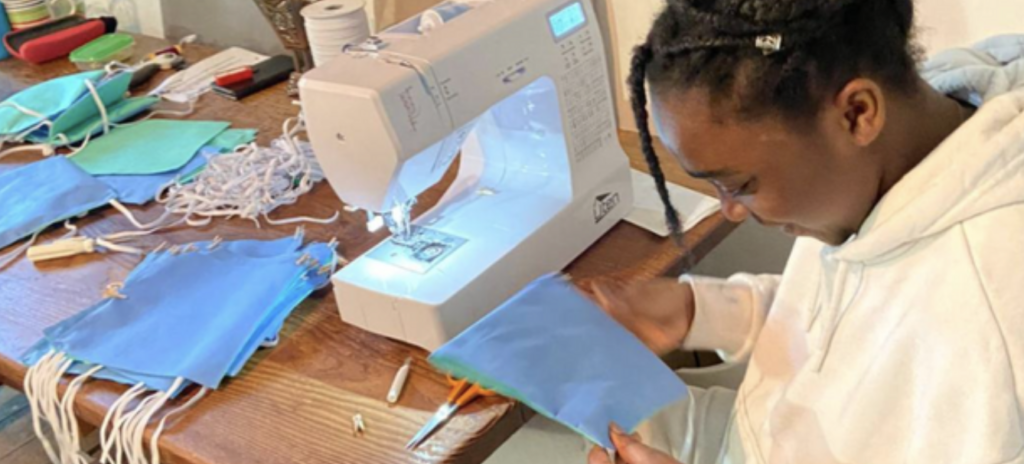 "I have always had a passion for fashion. Growing up, watching my mother was a real inspiration. One day she will be in her nurse's uniform, with the starched hat and elasticated belt, totally immaculate, other times she would be cocktail dresses, again in her traditional African attire. I had a lot to pull on as I grew up in the late 60's, early 70's. My mother had collected fabrics for over thirty years which I inherited, and I have created my own fashion brand, with my partner, Danny Sekibo. Coming from an African background, dressing is very important. My mother is from Sierra Leone, my father from the Republic of the Gambia. I was given a small sewing machine when I reached puberty. It's an African tradition for girls to receive such gifts towards the direction of sustainability.
I make a point of taking Mollie, my daughter, to the Gambia. We are part of many communities. We meet with them to hear their stories, most importantly for Mollie to understand her ancestral culture, and giving her great insight of how others live. She has a lot of freedom there, and I hope one day Mollie will be become part of both her worlds
We visit schools as well taking with us learning aids, everything we can that's educational. We are presently raising money to build a school in the rural area of Sukuta, where there is no education for nursery, or early primary.
I heard about W9W2 sewing group through the Westminster City Council weekly Newsletter, where Alice, from the Paddington Waterways & Maida Vale Society, was reaching out to the community to help sew masks for the NHS. Immediately, I felt propelled to help. It's a great project providing immense community service of which we ought to be a part.
WEPT has worked, and continues to work, with different communities in London through teaching fashion, sewing pattern cutting, and clothes construction. We work with people from all backgrounds, cultures, faith, disadvantaged, marginalised, and isolated seniors.
The need is now greater than ever for people to come together, to heal, and to communicate with other like-minded people in a safe environment. We believe our role is to take our communities from adversity to sustainability.
We have recently been approved as a Provider for NCFE Accredited Courses which will be delivered through our Academy, LFTA. (London Fashion Textile Academy). WEPT's aim is to create specific pathways where the community can learn new skills or up skill that will allow them to gain employment start a business apprenticeships or further education in their chosen fields. WEPT (Women Empowerment Project Training) is a CIC managed by partner, Danny Sekibo and myself. We started in 2015 through personal experience of trying to find a job in fashion. As a single mum with a school run. It wasn't happening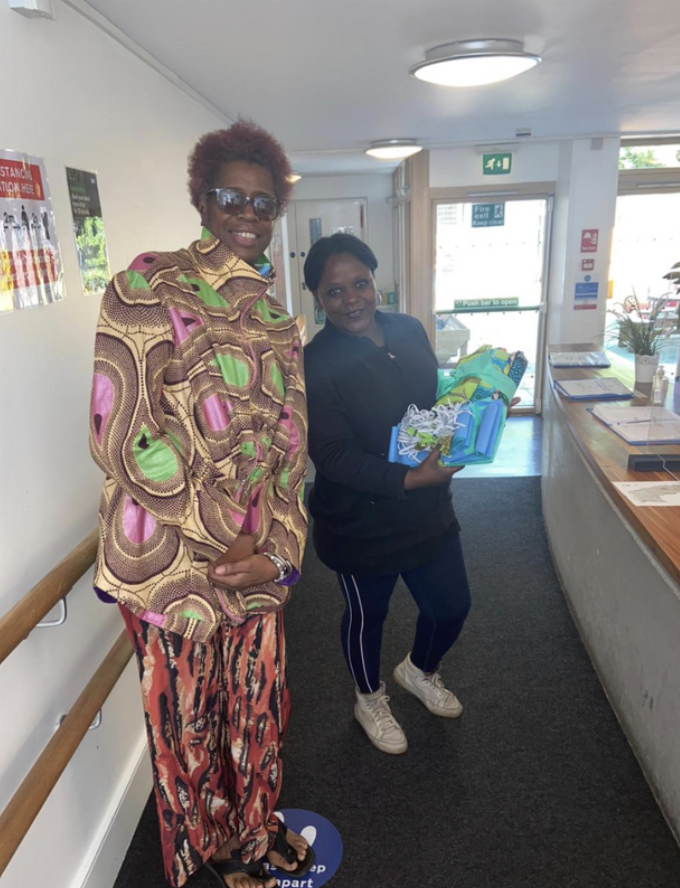 Sewing the Masks!
The day to day sewing was intense as the work was delicate and it created moments of sheer dedication. It was an honour to be part of. My sixteen year old daughter, Mollie, was a real force, and understands the sense of importance in helping her community. We got together and got it done!
I created the production line and I would do all the cutting of the squares. Mollie laid them out in stacks of ten, and by adding the elastic started the first stage of construction. I would then follow that by turning it out, adding the fourth elastic, and send it back to Mollie to pleat. Then, I would sew the pleating and voila! I worked on the industrial machine, Mollie works on my old machine, a computerised domestic machine on which I taught Mollie to sew when she was eight years old, which has been passed down to her.
The humorous side to it was that we gave my cousin the role of Quality Controller, to check that the masks were complete. Mollie enjoyed watching us interact. This became a weapon for her "OMG, she rejected over sixty masks!". It drove us potty! Eventually Mollie asked if I could sack the Quality Controller as it was not working for her.
We laughed! We still have to finish them that Mollie hid till after she left. We had arguments, disagreements and an absolute laugh. It really kept our spirits up, and taught us about emotions and feelings. We had discussions on family members that had passed away, especially our parents. One thing I must say: Mollie got a great insight into her family. Bonus!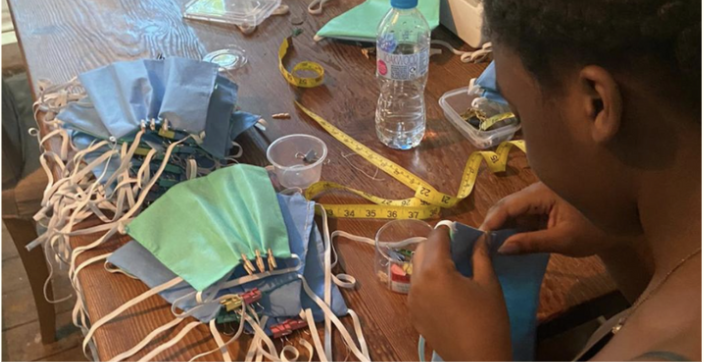 Our lockdown experience brought us closer. Normally we would not spend such long periods together as Mollie now attends boarding school. It was great to have that time together. Adjusting together to face what none of knew would be the outcome. Sewing the masks gave us a new bonding; it gave us back our time to be with each other every day, instead of every three weeks for a couple of days plus school holidays.
It taught us resilience in a time of not knowing what was happening to our futures!
The community could help WEPT by supporting us through different ways telling the community what we do to build a strong future for those of us that wants that extra difference and sometimes certain life, cultural religious circumstances can prevent us from sustainability of self. WEPT believe we can help bridge that gap. www.weptproject.co.uk
If you'd like to hear ongoing updates on this campaign and more about how you can support W9W2's community efforts, please sign up to our newsletter.