< Back
The 'Idle' Women
October 2020
By A. Butler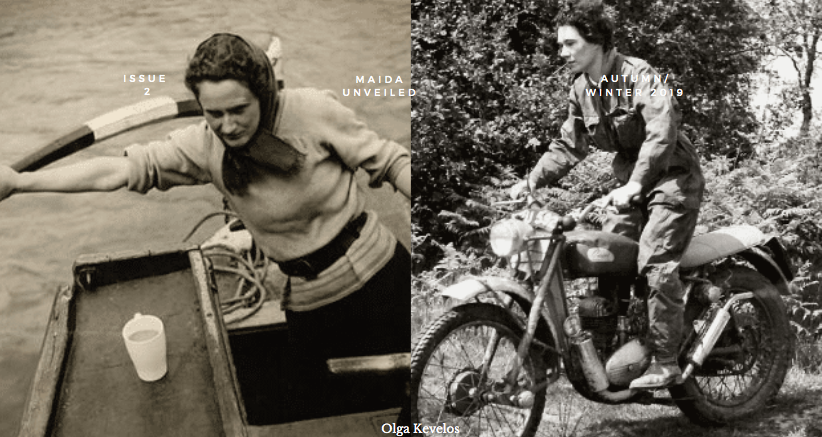 In 1943, aged 19, Olga Kevelos saw an advertisement inviting women to train for work on the canals. "She spent the next two years with all-female volunteer crews which ran the barges carrying vital war materials along the Grand Union Canal between London and the Midlands."
She and her fellow crew members were nicknamed The Idle Women after the initials IW on their badges. Officially, IW stood for Inland Waterways, but the traditional boat people, alongside whom they worked, were jealous of the newcomers and gave them the name which stuck.
Olga Kevelos made it clear that life had been far from idle for this exceptional group of women.- "hard work with no respite at all… We worked an 18- to 20-hour day, and nobody ever stopped." …"In all some 45 women took charge of the canal boats, which were worked in pairs, each pair crewed by three women. The volunteers would take the helm of massive barges transferring Spitfires or machine parts from the London Docks to Birmingham; on the return trip they would haul coal from Warwickshire to London.
The work was arduous and unpleasant – drowned bodies and cargoes of weapons and gold bars concealed as more innocent freight. Living conditions were rough and the girls were often cold and wet, as well as hungry (not for them the extra rations given to the Land Girls). The weather could be appalling and their craft were frequently ice bound.".
Olga was just one of about 30 Idle Women working on the boats during the war. Many joined following a recruitment drive, in 1944, by the Ministry of War Transport who advertised in the press and women's magazines. However, before 1942 the Grand Union Canal Carrying Company (GUCCC) at Southall gave the scheme a trial.
Girls were given 6 weeks' training before being let loose on the canals. One of these, Eily Gayford, became a trainer of future recruits. She was older than the new girls, and known as Kitty. Her book, The Amateur Boatwomen chronicles her experiences.
Other women recruits, who have written of their time on the boats, are Emma Smith in her book Maidens' Trip, Margaret Cornish in Troubled Waters and Susan Woolfitt in Idle Women. Unusually, Susan was a married woman. She had been married for 10 years to 'Donald Wolfit', as he liked to be called, when she joined up in 1944 as a result of the advert. For her, it was an escape from a marriage that was turning sour. The children were at boarding school and she wrote them many letters of her experiences. Hers was the first book published in 1947. However, many idle women remained interested in the canals.
Susan was an early member of the Inland Waterways Association (IWA). Others idle woman have attended Waterway events until recently. The scheme ended in 1946 with the return of the men after the war. Books mentioned are now published in paperback in the Working Waterways series and are available in London in the Canal Museum, near King's Cross.