< Back
The Women Put Underground
October 2020
By J Wilson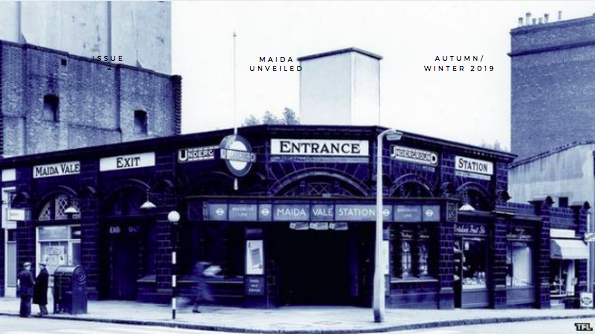 Word War One caused significant staff shortages on the London's transport network as 17,000 tube, bus, tram employees enlisted for military service. With men fighting away from the country, it became essential for women to take on these roles, [1].
Maida Vale station opened on 6th of June 1915, (as part of the Bakerloo line extension from Paddington to Queen's Park), and was the first station on the entire London network to be staffed entirely by women. As such, it was soon renamed the 'Ladies Tube Station'.
Women took over many roles which had previously been the sole domain of male workers, such as ticket collectors, lift guards, porters, painters and depot cleaners. The only position not filled by a woman was that of tube driver, a situation which remained until 1978, when Hannah Dadds became the first female to take the job, [2].
It was indeed a shock in 1915 to see women wearing a uniform and proving themselves so quickly in new roles. At that time there was still a common belief that women were incapable and did not have physical strength to conduct work outside the domestic walls.
The fame of the underground ladies became even greater when a bomb exploded a couple of yards from Maida Vale station. As the trains stopped, women escorted passengers outside the station to a nearby shelter, with calm and professionalism, without showing signs of panic or hysteria.
The role of women at such a difficult time was fundamental to keep the transport network running. Workers could not have reached factories if they did not have a tube to get on.
The female workforce continued until about 1919 when many servicemen returned to London. Two decades later, following the outbreak of the Second World War, a similar shortage of labour opened up jobs for women again and this time they took on virtually every role, including manual labour and heavy engineering.
In 2015, to mark the centenary of the opening of the station, a number of celebrations were held. These included an exhibition chronicling the history of women in transport, with staff volunteers on hand to speak with customers about the history of the station and the role of women in transport, [3].
References
[1] https://www.bbc.co.uk/programmes/p032dw9y
[2] https://www.bbc.co.uk/news/uk-england-london-33034393
[3] https://tfl.gov.uk/info-for/media/press-releases/2015/june/maida-vale-tube-station-celebrates-100th-anniversary